SAVE THE MURALS
The silent auction held Friday night of the reunion netted over $3800! We had a couple
of sizable cash contributions. In addition, the donations for the auction were awesome and
offered a great variety. Thank you to all who contributed and purchased. The Northern Hotel
gave us 2 sizable gifter certificates. Also, Rick Smith and Jimmie Ashcraft had published books
for the auction. Jimmie's proceeds totaled $1000!!!! If you are interested in purchasing either
Rick or Jimmie's books, contact them by pushing the button on their individual pages. Both
selectons a fabulous reads! The organizers of the murals project were overwhelmed with
our contributions. We are the largest donators at this point!!!~!!!!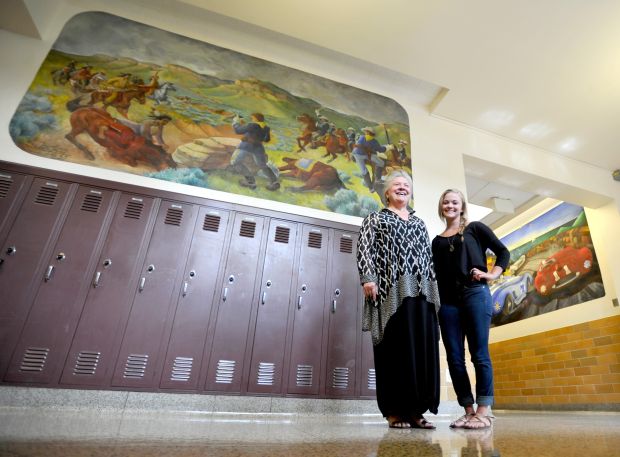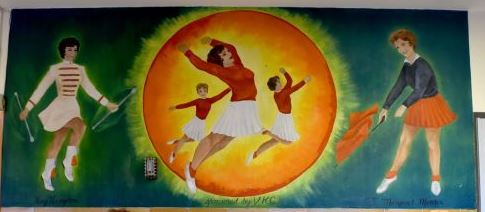 Help us to SAVE THE MURALS!
BILLILNGS SENIOR HIGH 1939 – 2016
77 years of BRONC tradition
IF THE WALLS COULD SPEAK
Among the many Bronc traditions is the huge collection of artwork throughout the halls, in the cafeteria, behind bookshelves and in stairwells of our alma mater. The topics and styles depict many themes of curriculum and issues. The first mural was done in 1947.
Our classmates, Judy Stark Angwin, Arlowene Shelver Thomas, and Susan Hoskins Peterson have their art displayed on second floor. Anne Veraldi also had a mosaic but its whereabouts is unknown.
Over time some of the murals are seriously deteriorating. Plaster is chipping the way, roof leaks have caused damage and general wear and tear due to the use of the thousands of students that have passed through the building are causing many issues that need to be repaired NOW.
In 2014 a dedicated group launched campaign to "save the murals." Part of that effort created a book. This book includes pictures of all of the murals. It includes a colored photo, the year, the location and artist details. The book is entitled IF THE WALLS COULD SPEAKand it will be available for purchase at the reunion. Kris Keup, Class of '64 is one of many spearheading this project. She taught English at Senior.
Best of all, besides the sale of the book, our class will hold a silent auction during our Friday evening event. We have books by class authors, artwork and crafts, and many other unique items. We urge YOU to contribute something – maybe an item from your adopted city or state. Ideas: gift cards, jewelry, gift baskets, etc.
More importantly, we urge you to bring extra CASH to bid on our items. We will help with shipping! ALL proceeds will go directly to the "Save the Murals" project, a gift from the Class of 66.
The silent auction will close at 8:30 pm Friday and we request your items be brought to the 2nd floor of the Northern no later than 5:00 pm. (We will be there at 4:00 pm to accept your items.)
ALSO, please let Kathy know what you are bringing so we can prepare adequate display space. Contact Kathy Ames Keepers 406-839-1565 or keeperskathy@yahoo.com for more information.
GO BRONCS!
There is also a Facebook page "BILLINGS SENIOR HIGH SAVE OUR MURALS SUPPORTERS." Anyone can join!
For more invormation, click on the links below

https://www.youtube.com/watch?v=CXxNIq2DMFI
http://www.billingsschools.org/Page/1131