In Memory
Tammy Feldner (Harris) VIEW PROFILE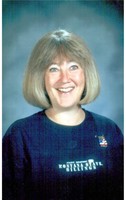 OCTOBER 13, 2013 12:00 AM
TAMARA JANE (FELDNER) HARRIS
On Wednesday, Oct. 9, 2013, after 16 months of battling cancer, Tammy went home to be with the Lord. She spent her last day on Earth, as she did her entire life, surrounded by her beloved family. She was 65.
Tamara Jane Feldner was born on Oct. 3, 1948, in Plentywood, Mont., to Allen and Leslee Feldner. She arrived 10 minutes before her twin brother, Tim. The Feldner family lived in Hardin, Laurel, and eventually Billings following Allen's coaching career. Tammy was a very active member of the Senior High class of 1966. She went on to Eastern Montana College where she earned a bachelor's degree in education in 1970. She devoted 33 years of her life to educating children both for Billings Public Schools and her private preschool. She touched the lives of many and was passionate about sharing her gifts through education.
Tammy met the love of her life, Gary Harris, in high school, and after years of friendship they were married on March 8, 1974. They would have celebrated 40 years of marriage this spring. Tammy and Gary devoted their lives to their children, Tyler, Hillary, and Tegan. As her girls became involved in athletics Tammy quickly became known as the loudest and craziest cheerleader in the stands. Again, she touched the lives of so many young people with her enthusiastic spirit and support. Family was EVERYTHING to Tammy and her proudest moments were when her seven beautiful grandbabies were born. She spent her retired life surrounding herself with her grandchildren and making lasting memories with each of them.
Tammy enjoyed spending time in the mountains with her family, laughing with her "Craft Sisters," and happy hour on her patio in Arizona. She will be missed by many! Tammy is survived by her husband, Gary; her children, Tyler (Marris) Harris, Hillary (Greg) Gnerer, and Tegan (Mac) Leffler; her seven grandchildren, Caitlyn, Kylie, Kaden, Tyger, McClain, Grady, and Tenley; her brothers, Tim (Karen) Feldner, Mike Feldner; her sister Kelly Jorgenson; along with many nieces and nephews.
A celebration of Tammy's life will take place on Friday, Oct. 18, 2 p.m. at First United Methodist Church. Memorials may be made to Boys and Girls Club of Yellowstone County and American Cancer Society or a charity of one's choice.
Arrangements are by Cremation & Funeral Gallery. Condolences may be sent to the family at www.cfgbillings.com through "Our Families."
Click here to see Tammy's last Profile entry.