In Memory
Tony Gomez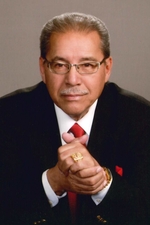 Anthony "Tony" Gomez
Anthony (Tony) Gomez beloved father, grandfather, and great grandfather and great great-grandfather passed away on September 14, 2018 surrounded by family and friends.
Tony was born on July 29, 1946 to Theresa Hilario and Trinidad Gomez.
Tony married the love of his life Rose Castro on July 25, 1966. They were blessed with three children: Lena (Eddie) Estrada, Chris (Chelo) Gomez and Joe (Robyn) Gomez.
He had 8 grandchildren: Angelo (Andrea) Medina, Adrian (Amber) Medina, Louis Estrada, Gabrielle Warren, Antonio Gomez, Andres Gomez, Jeriko and Isabella Gomez. Three great grandchildren: Leona, Kaeden and Madalle.
Tony is survived by his numerous siblings. Tony was preceded in death by his wife Rose and parents Theresa Hilario and Trinidad Gomez, and siblings Rosario and Linda Valenzuela.
Tony served in the Marines with an honorable discharge. Tony was very active in the Mary Queen Peace Church and volunteer work.
Tony had a passion for cooking, dancing, playing pool, and especially entertaining family and friends.
The vigil will be Tuesday September 18, 2018 at 7pm at Mary Queen of Peace Church.
Church service will be Wednesday September 19, 2018 at 10:00 at Mary Queen of Peace Church.
Burial will follow service at Holy Cross Cemetery. Lunch will be served at Mary Queen of Peace following the burial.
Tony had many friends and family and will be truly missed by all.
This obituary courtesy of Smith Downtown Funeral Chapel, Billings, Montana, http://www.smithfuneralchapels.com/