In Memory
Mary Hailstone (Allen)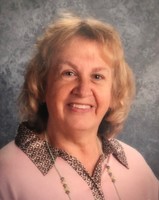 Mary L Hailstone Allen
Feb 13, 1948 – Dec 3, 2019
Mary L. Allen, 71, beloved mother, grandmother, sister, friend, teacher and historian, was granted her wings for her journey to Heaven on December 3, 2019, after a hard fought 6 year battle with ovarian cancer.

Mary was born to Edith (Howard) and William Hailstone on February 13, 1948 in Missoula, MT, the second of six children. The family moved to Billings, where Mary grew up. She graduated from BHS in '66, a keen student active in drama, German club and 4-H. She earned her teaching degree from Eastern Montana College in 1970. While student teaching in Red Lodge, Mary met her life partner, Joe Allen, a Roberts rancher. They married December 19, 1970 at St. Agnes Catholic Church. Mary and Joe settled on the Allen family ranch in Roberts, where they lived the rest of their lives and raised their children Erika and Tyler.

Mary's first teaching job was for the Red Lodge schools; then Mary was hired in her new hometown to teach the first ever kindergarten class at Roberts School. Continuing there until retirement in 2014, Mary was a beloved student activities advisor and taught various grades and courses: German, English, Reading, Drama, Business, and Community history research. She was the librarian, and advisor to the school newspaper, National Honor Society, and Class Advisor. 'Frau Allen' guided and inspired hundreds of students to find their passion; through her, so many found meaningful (and colorful!) career paths. She encouraged each individual to do their personal best, and she reinforced that through her own example of dedication and learning.

Mary had too many accomplishments to list in this space. A couple are particularly noteworthy. Mary was awarded the 2014 Heritage Keepers Award by the Montana Historical Society for her 590-page book "Trails, Tracks and Tributes: A History of Roberts" which she researched and wrote with the help of students, town elders, and many volunteers. Using information from her town history research, Mary helped rally the community to create the Roberts Veterans Cross Project. Now more than 450 Roberts Veterans and active service members are memorialized along the Roberts highway every Memorial and Veterans Day. Mary herself sewed hundreds of protective covers for the markers.
Mary was preceded in death by her husband Joe, her parents, sisters Beverly Emery and Billy O'Reilly, and brothers Richard and David Hailstone. Surviving family members include her daughter Erika (James) Binando; son Tyler (Lindy) Allen; brothers Howard (Marie) Hailstone, and John(Barb) Hailstone; sisters Ruby(Tim) Ennis, Margie (Dale) Brelje, Rhoda(Brook)Hovland; and eight grandchildren.
Mass for Mary will be held at St. Agnes Church in Red Lodge at 12:00 noon on Thursday, December 12, 2019. Luncheon will follow at St. Agnes, and interment will follow at Roberts Cemetery. Smith Olcott Funeral Chapel in Red Lodge has assisted with the arrangements. Memorials may be sent to St. Agnes Altar Society Box 1067 Red Lodge, MT 59068, Beartooth Hospice at 252 Broadway Red Lodge, Roberts Community Foundation Box 284 Roberts, MT 50707, or charity of choice.
For full text of obit or to share condolences with the family go to:
https://smithfuneralchapels.com/book-of-memories/4050783/Allen-Mary/index.php