In Memory
Gaylen Parks (Herbele)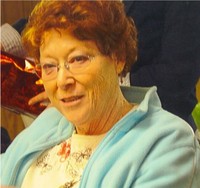 Gaylen Sue (Parks) Heberle
Gaylen Sue (Parks) Heberle passed away peacefully on Sunday, June 7, 2009, surrounded by her family.
Gay was born November 3, 1946, to Joe and Mary (Taylor) Parks in Wichita Falls, Texas. She moved to Billings in 1949 with her family, attending schools there and graduating from Senior High in 1965. When Joe's work took him to South America in1966 the family moved again, and Gay lived for a year in Rosario, Argentina, where she made lasting memories exploring the local culture with her sisters Margie and Kathy.
After returning to Montana, Gay attended cosmetology school in Billings and found work as a hair stylist in Miles City. She met and fell in love with Fred Heberle of Forsyth and the two were married July 5, 1969. They were blessed with two children and 40 years of loving, happy marriage.
One of Gays defining characteristics was her love of meeting new people and experiencing new things. Her adventurousness was evident in the many jobs she held over the years in Forsyth: she was a teller at First State Bank; co-owner of Susies Shoe Inn; manager at Coast to Coast Hardware; cashier at G&M Foods; and sales clerk at Shy Ann's. In 2004 she became a dispatcher for the Rosebud County Sheriff's Office where she worked until her retirement in January 2009. Her retirement was short-lived however, as the joy she derived from interacting with people led her to take a position at Top That Eatery in Forsyth, where she worked until her death.
Gay celebrated life and people. Her favorite activity was chatting with family, friends, and the occasional complete stranger. She loved children, and her door was always open to the neighborhood kids who knew her as Grandma Gay. She was overjoyed by the birth, two weeks ago, of her first grandchild. She was an enthusiastic supporter of the activities of her children, grandniece, and grandnephews, attending their concerts, plays, and competitions. She was an avid reader with a particular fondness for mysteries. She maintained a lifelong fascination with history and culture, and she traveled extensively in the United States, the Caribbean, and South America.
Gay was a long-time member of First Baptist Church in Forsyth. She was active in the church throughout her life, teaching Sunday school, Vacation Bible School, and leading adult Bible studies. In recent years she took great joy teaching in the AWANAS program. She served the broader Baptist community as Treasurer of the Big Sky Association of the Southern Baptist Convention for many years. Gay's commitment to the Lord extended beyond her church family and into the community. With her friend Ruth Propp, she founded the First Baptist Daycare, filling a local need for affordable childcare. She led Bible studies for incarcerated women at the Rosebud County Jail with her friend Linda Krebs and became a mentor to several of the women she met there, selfishly and quietly assisting them in their transition back to society. She was a humanitarian and a servant of God. Her colors are woven into the fabric of our community; they are there for us to see, to remember, and to celebrate a life devoted to the glorification of God.
Gay is survived by her husband Fred of Forsyth; her brother Joe (Mary) Parks, Galax, VA; her daughter Susie (Oliver) Sanders and grandson Dameon Sanders, Forsyth; her son Andy Heberle, Ithaca, NY; her brother-in-law Donald Cookman, Rosebud; her niece Mary (Paul) Kunst, Forsyth; her grandnephews Grayson Kunst and DJ Kunst, Forsyth; her grandniece Caroline Kunst, Forsyth; her niece Julianne (Randy) Natzel, Billings and their daughters Maureen and Catherine; her nephew John (Ashley) Parks, of Virginia and their children Kaegan, Will and Anna; her niece Sally Ann (David) Jones, Laurel, and their daughter Brianne; her nephew James (Sarah) Cookman, Weatherford, TX; her nephew Jefferson (Samantha) Cookman and their children Christopher and Olivia; her nephew John Cookman and his daughters Jordan and Karson; and many beloved family and friends.
Gay was preceded in death by her parents Joe and Mary Parks, and her sisters Margaret Cookman and Dana Kathleen Nuss. Gay's family wishes to thank the staff at the Billings Clinic Cancer Center, her employers Ken and Nancy Pratt and gracious co-workers at Top That Eatery, and her special friends Linda Krebs, Bev Schwend, and Ruth Propp, from whom she drew tremendous strength during her battle with cancer. We are also enormously grateful to family and friends who have passed along their condolences, kind remembrances, well-wishes, and food.
In memory of Gaylen Gay Heberle
Stevenson & Sons Funeral Homes 5/22/2016