In Memory
Harold Prelle VIEW PROFILE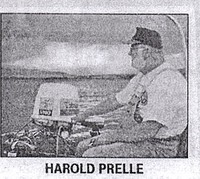 Harold Alfred Prelle
Harold A. Prelle, 56, of Billings, passed away Thursday, January 27, 2005, at St. Vincent's Hospital.
Harold was born in Billings on March 18, 1948, the son of Alfred Franklin and Muezett Lillian (Wolff) Prelle.
Harold grew up in Billings, graduating from Billings Senior High School in 1966. He loved the outdoors. Harold enjoyed all activities outdoors, hunting, fishing, camping; just being outside was where he was the happiest.
He is survived by his three children, daughter Tracey Mercer of Eugene, OR; his sons, Brian (Tracy) and Mark (Misty), both of Billings; his sisters, Suezett Hoffer, of Billings, and Patricia (Gary) Curtis, of Ogden, UT. Harold is also survived by his four grandchildren, Kris,m Brian II, Brenna and Anna.
In lieu of flowers, memorials may be made to the City of Billings Animal Shelter, 1735 Monad Road, Billings, MT 59102.
A memorial service will be held at 3:00 pm, January 30, at Cremation or Funeral Gallery
Click here to see Harold's last Profile entry.