Billings Sr

High School




Class of 1966
Thanks to Ben Larsen, Class of '65,
for the recordings of the BSHS Band!
ANNOUNCEMENTS

CELEBRATE BILLINGS HIGH SCHOOLS
Senior High won 2 football championships in 2016-2017 with perfect records--not a loss in 2 seasons. This year another school, Billings West, goes for the State championship on Wendy's Field at Daylis Stadium, Fri. night, Nov. 16, 2018. I think that they will win. Central High plays for the Class A title in Hamilton this weekend, also. I hope that they win. What a nice deal for Billings kids to have evolved into such achievements through hard work and growth in mental and physical skills. GOOD LUCK TO OUR BILLINGS KIDS. ###UPDATE### West High beat Kalispell Flathead 20-14 for State AA title. ##Billings Central Rams beat Hamilton for Class A title, 28-21.
This past week we recieved word that Ben Collins has
passed away this past week. We will post more details later.
Our hearts and prayers go out to John and his family.
WE ARE NOW ON FACEBOOK!
Thanks to Susan Leone Rausch, we now have a BSHS Class of 1966 Facebook page! Yay Susan!
Just search for Billings Senior High Class of 1966
Check it out --- invite other classmates, post pictures, share stories - just have fun with it. We will post our progress on our reunion on this page as well as on this website.
2nd Grade Class - Rimrock Elementary - 1956
Teacher ~ Miss Hertzler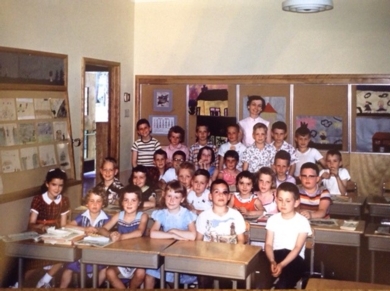 Thank you, Linda Green Rutherford